Turja is a 5-year-old kid. He lives in an old city named Kolkata.
Kolkata is a 350-year-old city located on the banks of the Hooghly river, a distributary of the Ganges river.
Turja used to go to school and play with his friends.
But for the last one year, due to covid19 regulations, he along with all his friends,
are confined
to their respective homes
.
He hoped to rejoin his swimming classes this year. But the covid19 situations in the city further deteriorated. Hence his parents did not allow him to go out of his home.
Online classes worsened things further. 3-4 hours of the day
was dedicated
to the computer or mobile screen.
Before covid19 had disrupted his normal life, he used to go cycling with his father. Playing in the children's park was a daily routine for him. His favorite was playing in slides and swing.
Now, he feels irritated. 24 x 7 he is within the closed walls of his room. The only source of entertainment is listening to short stories from his parents.
The breakfast table discussion
He was having his breakfast with his parents when he told his father –
"Baba, it's so boring…I am tired of attending classes and playing with my toys. I want to hear a story from you now…"
His father said – " Today I am busy baby! But I will definitely tell you a story tomorrow…a
story
of an alien in Kolkata"
That eventful night…
As a usual routine, he went to sleep at 11:30 pm at night. While he was sleeping, he felt some uneasiness. He opened his eyes and saw that a green light beam fell in his bed. He observes
minutely
. Was the light beam was coming from the big tree
just
outside his window?
He was now feeling scared. He thought of calling his father and mother. But, gathered some courage and went on to trace the source of the light beam.
"Is the light beam coming from the street light? But, the light from the street lamp is blue in color. This light is green….. and looks more like…."
He had seen some similar kind of light somewhere but he could not recall.
"Yes ! Now I remember ! the light looks like Aurora Borealis. One day his father showed him pictures of aurora borealis".
Now, he broadened his eyes and kept looking at the light that came through the window and fell on the bed.
A strange creature appears – an alien in Kolkata!
To his surprise, he saw a strange little creature appearing out of the beam of light.
Now, Turja looks scared. He wanted to shout but could not utter a word from his mouth.
He could not move his hands and his feet and felt numb.
The creature landed on the bed and then started moving up the right leg of Turja.
Then the creature jumped from the thigh of the kid and landed over the tummy of Turja.
Now, Turja can view the creature
clearly
. An alien in Kolkata!!!
How does it look like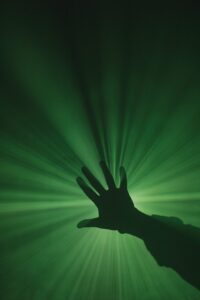 The creature did not have a face, hands, and feet like us humans.
It looked like a condensed cloud of green light with bright red lights rotating over its head. The size of the creature was not more than a bee.
Suddenly
, to his surprise, Turja heard the creature say –
"H-e-l-l-o T-U-R-J-A !!! Do not get scared. Consider me as your friend.
The kid could now speak. He said –
"But who are you?  where do you stay? How did you enter my room? are you a magician? why are you so small? sometime back I was unable to talk and move my arms and legs, but how can I talk now? And most
surprisingly
, how d-i-d    y-o-u k-n-o-w    m-y    n-a-m-e ? Are you an alien ?
"B-a-r-r-a-g-e of questions kid" ! – said the creature.
"I do not have a name. I am coming from a planet called – Mars. Our system at Mars showed that there has been a change in the life style of beautiful kids like you.
Our master system advised me to visit you.
"Yes friend ! You are right. My parents told me that an invisible virus called corona has hit the World.
Everyone
is scared
of corona.
I am not allowed to go to the school or playground. It's so boring friend.
I am unable to meet my friends and play in the play ground. Even I am stopped from going to the swimming pool.
Friend, why don't you help solve this crisis ?"
The circumference of the bright red light rotating over its head became bigger. After some time, the circumference again got reduced in size.
The secret password
"Listen kid ! You are
perhaps
too young to understand.
The corona is no virus. These are actually aliens from Mars. Hence you cannot see them in naked eyes. These aliens are very intelligent. They can change their behavior, size, shape & adaptability very fast.
Human intelligence is too less and too slow to handle these aliens.
"But why are they doing harm to us, friend ?" – asked Turja
"Many wicked people from Earth had gone and created havoc in Mars a few years back.
They destroyed many precious things on Mars.
Now, the creatures from Mars have decided to attack the creatures of the Earth.
They have planned to do so much harm to Earth that the creatures from Earth will not get any time to attack Mars in the future
.
While my master does not support any type of revenge, but this is the only option left to handle the creatures from Earth"
. – said the alien.
The solution
"I am feeling very sad, friend.
Now that I thought you are my friend, but you actually come from the place from where the creatures are doing so much harm to us
.
Before you leave, at least tell me a solution, please."
"Sorry friend. I have not
been advised by
my master to share with you any solution.
My master told me to inform you of the actual reason and you yourself will get the solution.
We love young, bright kids like you all. Tomorrow, you all will grow up and represent the Earth.
While you all grow up, do not forget the reason for this crisis.
Be friendly and never harm anyone."
Within a fraction of a second, the creature disappeared. The green light beam also retraced back to its source….
The room was dark once again.
The kid kept looking at the window, looking at the dark cloudy sky….
It's morning now
Turja! Turja! Get up from bed…you are already late!
Get up..son, it's already 9 am, your class starts in another 30 minutes time.
Turja opened his eyes, looked outside the window, and kept thinking…
He went up from his bed, stood in front of his
aquarium
, thought for a moment.
Then he called his mother –
"Maa! Maa!….something strange happened last night…an alien visited me yesterday night, an alien maa!
an alien in Kolkata !"
————————————————————————————————–
Image credits for the story of alien in Kolkata :